Apply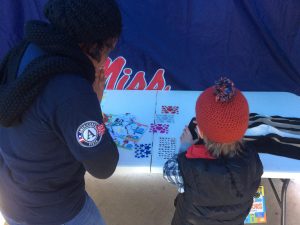 UM's Center for Mathematics and Science Education VISTA Iesha Richardson collaborated with fellow VISTA members serving the L-O-U Excel by 5 coalition and Horizons summer program to provide children's activities during the 2019 Dr. Martin Luther King, Jr. Day of Service.
Apply to serve with the North Mississippi VISTA Project!
The North Mississippi VISTA Project at the University of Mississippi seeks dynamic individuals to serve as Volunteers in Service to America (VISTAs). Each full-time, one-year placement is supported by AmeriCorps with a modest living allowance, health benefits, and an education award. VISTAs serve throughout North Mississippi to build sustainable systems for fighting poverty through education. Available VISTA positions are listed on our recruitment flyer. If you have questions or want to apply, please contact Emily Echols: emily@olemiss.edu or (662) 915‐2713, or the VISTA Leader Office: vista@olemiss.edu or (662) 915-2397.
The North Mississippi VISTA Project is currently recruiting for yearlong VISTA positions and VISTA Summer Associate positions!
Yearlong VISTA positions provide indirect service and capacity building to multiple organizations in an effort to alleviate poverty throughout North Mississippi. We are recruiting yearlong VISTA members to serve during the 2022-2023 program year. Click HERE to apply for a yearlong VISTA Position.
VISTA Summer Associates provide direct service to promote summer learning and food security. VISTA Summer Associates will serve from June 9 through August 3, 2022. Click HERE to apply to become a 2022 VISTA Summer Associate.